Mold Remediation in Albany NY & Beyond
MacFawn Fire & Flood Restoration specializes in both residential and commercial mold remediation and removal in Albany NY, Worcester MA, Media PA and the Tampa Bay area.
We follow strict health and safety guidelines, and are a fully licensed mold remediation company. Our technicians use a multi-step mold removal process, which includes fixing the conditions that are causing the mold to grow, removing all damaged materials, and treating the affected areas with non-toxic antimicrobials to deter mold from returning.
For prompt, professional, effective mold abatement in Albany, Clifton Park, Saratoga or MA, PA or FL, call (877) MACFAWN. Our phone lines are open 24 hours a day, 365 days a year.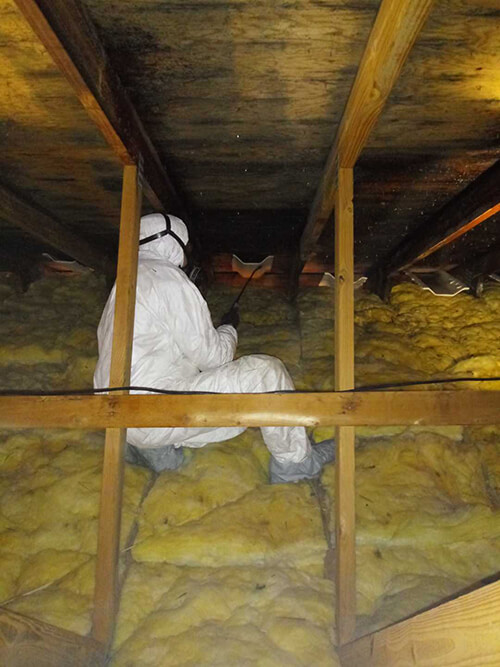 What is Mold?
Mold is a type of fungus that can grow on building materials in your home or business when there is excess of moisture and favorable atmospheric conditions.
How Does Mold Grow?
Mold requires the following conditions in order to grow:
Excess moisture, or water intrusion
The right temperature
The right humidity level
Food source(s)
In certain instances, mold may begin colonizing within 24 hours of water invading a home, which is why moisture control and water damage cleanup is critical to the prevention of mold growth.
What Health Risks Are Associated with Mold?
Exposure to mold can be harmful to your health and can contribute to a number of health issues, including throat irritation, nasal stuffiness, eye irritation, coughing, wheezing and skin irritation. It is best to take mold issues in your home or business seriously to avoid any health concerns.
When Should I Contact a Mold Professional?
If you are researching when to contact a mold specialist, you already have your answer – immediately. Mold spores are airborne and cleaning large areas of mold can be tricky. It's best to consult with a mold remediation expert who can properly guide you through the process.
What is involved in the Mold Removal Process?
We use a multi-step mold removal process, which includes the following:
Addressing and correcting the source of water or moisture intrusion
Containment
Removal
Encapsulation
Reconstruction
Additional Mold Resources
Why Choose MacFawn Fire & Flood Restoration for Mold Removal?
With over 30 years of experience in the mold remediation industry, MacFawn Fire & Flood Restoration has the licensure, expertise and training necessary to properly remove mold from your business or home.
As the client, your needs come first, and we work hand-in-hand with you to create a prompt and effective mold remediation plan. Call us 24 hours a day, 365 days a year at (877) MAC-FAWN for mold mitigation in Albany NY, Worcester MA, Media PA and Tampa FL.